Planetary Gear Motor Manufacturer in China
Request a Quote Today
Contact Us Now
Enter your inquiry details, We will reply you in 24 hours.
Phone can't be empty
Phone
Products can't be empty
Products you want
DC Planetary Gear Motor Supplier
● TWIRL is a world leader in the design and manufacturing of customized gear motors. Our gear motors are renowned for their smooth, controlled power delivery and high torque.
● From configurable to fully customizable, Twirl offers Gearmotor solutions to meet specific OEM requirements.
● Since different cases normally hold different needs and demands, custom gearboxes are of great importance so that different needs can be satisfied individually.
● In-house manufacturing of own gearing tools as well as treatment and hardening processes, the production of precise gearing components, gearboxes and technical parts are core competencies of TWIRL.

Why Choose Us

Engineering Excellence
Twirl Motor has the engineering capability to meet your design requirements.

Flexible Manufacturing
Twirl's lean optimized manufacturing floor can accommodate both large and small orders.

Quality Reliability
Key Components are completely Home-Made. IATF16949 management system ensures product quality accuracy and productivity.

OEM&ODM
OEM&ODM
is our daily work, over 95% of motors we are selling are OEM&ODM.

Competitive Cost Control System
Our perfect and stable supply chain system. Automated production and very low defect rates have reduced costs.

Effective Communication and Collaboration
The customer needs analysis team responds to customers quickly and professionally. Professional sales engineers provide one-stop customized services.
Main Certificate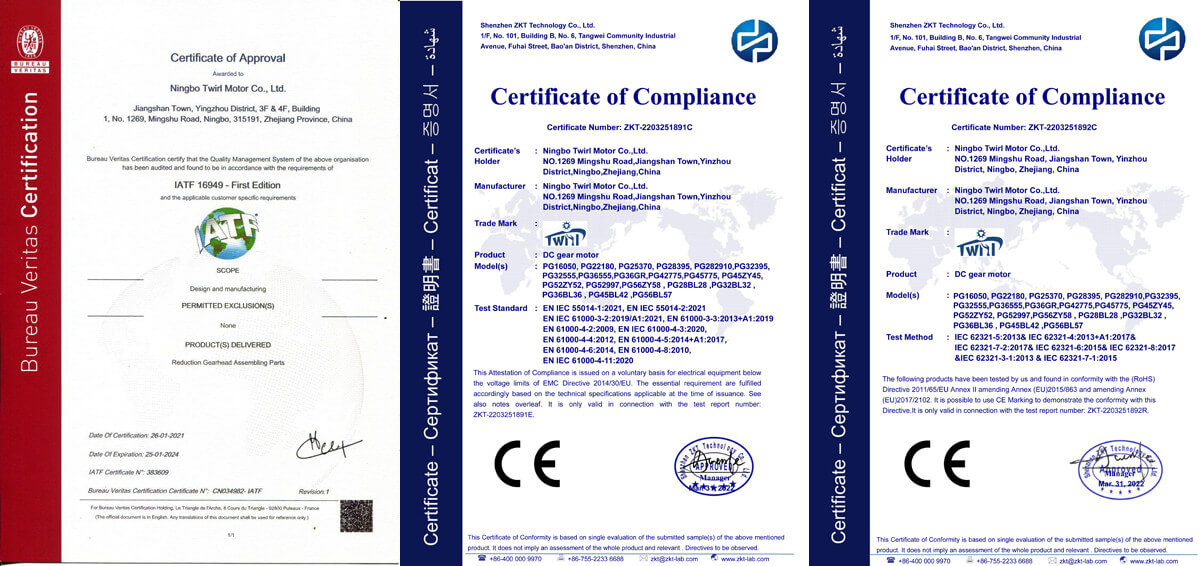 Buying FAQ
1
Can the motor run in CW (clockwise) and CCW (counter-clockwise)?
Yes, all of our Brushed DC and Gear Motor can be used in both CW and CCW. Normally direction of Rotation is CCW when viewing from the output shaft end with positive the voltage applied to the positive terminal.
2
If I don't know how much torque I need, how can I figure it out?
There is a simple way to figure it out. You just need to send us the rough torque range, and the dimension limitation, then we will offer a type for you and make a few samples to test. During the testing, we can offer a simple method to check it out.
3
How to reduce the motor noise?
This is a constantly and usually asked question. Twirl has 10+ years of experience with noise control experience, we have many ways to handle different noises, like different gear materials and production technics, grease and DC Motor control.
4
Can Twirl customize the motor?
yes, most of motors supplied to current customers are customized, like the customized voltage, speed, torque, current and noise; customized dimensions, like a shaft, motor body, extra cable&connector, worm, gear support, etc.
5
Can I get samples for testing before ordering?
When you need samples for testing, please contact us directly, will answer your inquiry no later than 24 hours.
6
What is the lead time for samples and bulks?
It depends. For samples, It is about 12 days. For bulk production (5000pcs or below), About 30 days. For bulk production (5000pcs above), About 50 days.
7
It depends on motor types, Pls discuss with our sales on line.
8
What is your payment term?
T/T, L/C, Western union etc, We can further discuss.
9
What is your delivery term?
Ex Works, FOB Ningbo/Shanghai, FCA, CIF discharge port, CIP destination airport, DDU those are what we always do so far.
TWIRL Planetary Gear Motor Catalog
Choose Professional Planetary Gear Motor Manufacturers and Suppliers
As a leading manufacturer of planetary gear motors in China, we can help you provide more affordable planetary gear motors. Our reliable quality can help you expand your business.
Read More
Planetary Gear Motor
TWIRL MOTOR products consist of gearbox ,motor ,encoder and brake components.
Outer Diameter: 16mm – 115mm
Voltage: 3V,6V,12V,18V, 24VDC
Output power: 1Watt ~80 Watt
Rated torque: up to 290 Nm
Rated speed: 1rpm ~ 2000rpm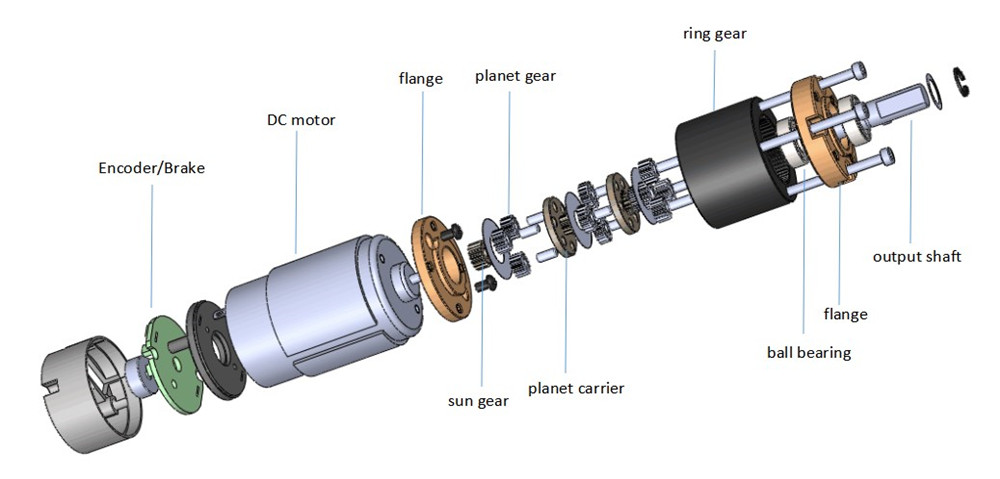 Customized Options
Total DC motor solutions could be customized based on different appllication conditions.
Professional DC gear motor customization at various RPM, torques, OD, voltages, flange, and IP ratings.

Output shaft: extended, slotted, cross-drilled, D-cut, Keyway, round, Hexagon, Splined
Lead wire: special lengths, heat shrink, connectors, cable harnesses.

Bearing & lubricant for high temperature/humid operations

Power-on or power-off type electromagnetic brake,encoder+brake Option

Capacitor& resistor for EMC suppression.